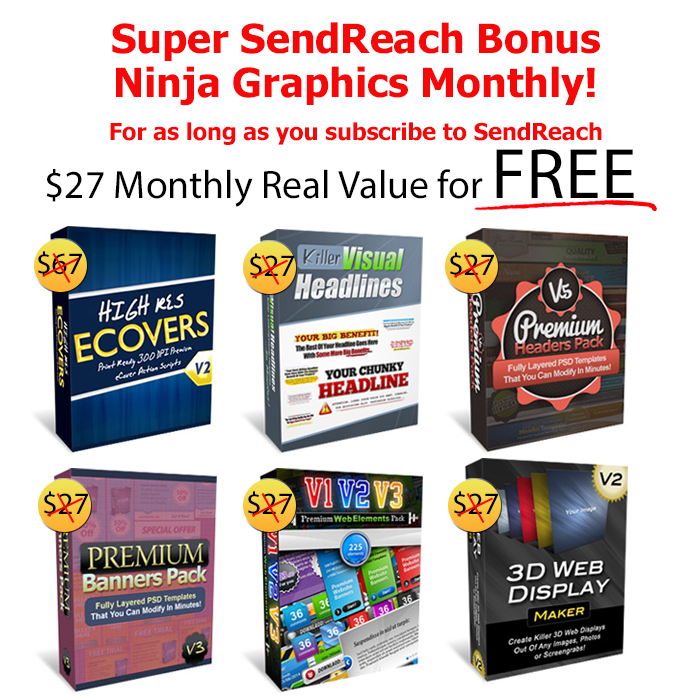 What I have for you on this page really is a great additional offer where you save BIG TIME on more quality products that I sell. I usually sell these products for $27 to $67 EACH and they sell well at those prices.

High Res eCovers V2

People DO judge a book by its cover... and this also applies to "virtual" products like software, plugins, eBooks, etc.. High Res eCovers gives you the tools to create awesome looking 3D product covers, in minutes. The best thing about this product is the quality of the final covers you can create... they're easily some of the best looking 3D eCovers you can find online. You also get some 2D templates to help you create the initial design.
Killer Visual Headlines

One of the most important elements on any sales page are the headlines. A killer headline can dramatically improve conversions. Besides good sales copy, headlines also need to look right - and that's where "Killer Visual Headlines" come in handy. This product comes with 25 different PSD headline templates that come pre-formatted with the right font, the right text color, underlines, highlights, etc.. Everything you need to make a headline look good is already in place - just type in your own text, and boom... you have a killer headline in minutes.
Premium Headers Pack V5

One of the major elements of any website or blog is the header graphic that goes at the top of a page. This product will help you create great looking headers for your websites. You'll get a set of 25 premium quality header templates, in layered PSD format. These headers are fully editable, so you can add your own text, images, change the colors, move things around, etc..
Premium Banners Pack V3

Professional banner design can cost anywhere from $20 to $100+ per banner. And in most cases that includes just ONE banner in ONE size. "Premium Banners Pack V3" will help you save money on banner design. This pack contains 10 different pre-formatted and fully editable banner templates... and each template comes in 12 of the most popular banner sizes for the web. So you'll be able to create a whole library of banners for your offers.
Premium Web Elements Triple Pack

This "Triple Pack" consists of 3 separate graphics packages and 225 different graphics elements all together like: web banners, sliders, badges, ribbons, buttons, stickers, tooltips, arrows, and all kinds of other web graphics. It's an awesome pack with a big variety of different graphics in different styles and colors. You get layered PSDs and web-ready PNGs to all the graphics.
3D Display Maker V2

With 3D Web Display Maker you can create killer looking web displays for all your images, photos and screen grabs... sort of like the "coverflow" effect on the iPhone. This is a great way to show off your websites and products to others. And the best part is, you can create this cool look with just a few clicks - just click on the "smart layer", insert your own screen grab or ANY pictures at all, click save... and you have a killer 3D web display.